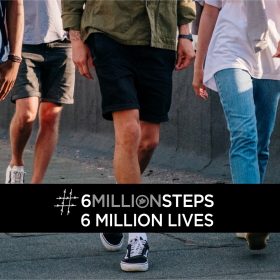 #6MILLIONSTEPS
Chicago
Community , Regional Event , Yom Hashoah
Sun., APRIL 04TH TO Sun., APRIL 11TH
08:00 AM (CST)
Duration: 12 hours
Join us as we take part in a unique effort to preserve the memory of the Holocaust, by walking towards the goal of reaching 6 Million Steps in honor of 6 Million Jewish Lives Lost. You are invited to walk as a family, a group or on your own anytime, anywhere between April 4 and April 11. Track and add your steps to the IAC Chicago group count by using the link: We are counting on all of us in our community to help us reach the goal. Think of a person, a community, or a child for whom you are walking at any given time.
The students of preschools and low-grade schools will join us for this event. The children with their families and/or teachers will walk towards a wonderful future for generations to come.
Record your steps by clicking here  or by scanning the QR Code below  

בתקופה זו של אנטישמיות גוברת וגידול בפשעי שנאה נגד יהודים בארה"ב ובעולם, ולכבוד יום השואה שבפתח, אנו מזמינים את הקהילה בשיקגו רבתי לקחת חלק במאמץ הלאומי של ארגון אי איי סי שיקגו לשמר את זיכרון השואה להילחם באנטישמיות. עיזרו לנו להגיע ל -6 מיליון צעדים לזכר 6 מיליון החיים שאבדו. כל שעליכם לעשות הוא ללכת או לרוץ ולהעלות את המודעות של כולנו לנושא חשוב זה. הנכם מוזמנים לצעוד כמשפחה, כחלק מקבוצות ארגוניות או בעצמכם מ4 לאפריל עד ה11 באפריל. אנא שלחו לנו סרטון קצר או תמונות המייצגים את הצעדים המשמעותיים שלכם. אנו מקווים שהצעדים בתקופה המוצעת תלווה בזכרונות של שמות או סיפורים של תקופה חשובה זו. גני ילדים יצטרפו אלינו למבצע חשוב זה. הילדים ומשפחותיהם ואנשי החינוך שלהם ילכו למען עתיד נפלא של דור ההמשך.
אנא הזינו את מספר הצעדים שלכם פה או על ידי סריקת הקוד

this course is also available on different days
×