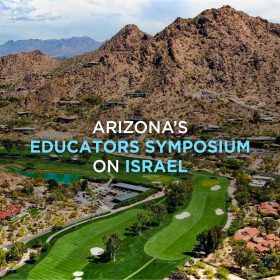 Israeli Symposium for Teachers
Scottsdale, AZ
05:00 PM (Local Time )
05:00 PM (MST)
Duration: 3 hours
Join us for an Israeli Symposium for Arizona's teachers with top-notch experts.
During the event, educators will have the opportunity to learn about Israel and its contribution to science,
technology, and innovation. This program is complimentary to all educators in Arizona.
A certificate of participation will be given to participants that can help with obtaining
professional development accreditation.
Due to COVID 19 Pandemic and in order to maintain the health of our community – participation in our event requires signing a health form when you arrive to the event. Please do not come if you are experiencing symptoms or have been exposed to someone who is sick. Help us all keep our families, friends, and community healthy – we all share the responsibility!
this course is also available on different days
×