Virtual Event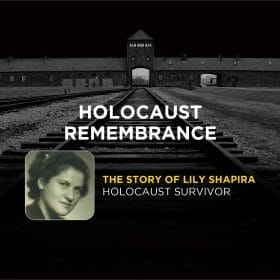 Zikaron Basalon-The Story of Lily Shapira
South East and the Atlanta region
Community , Regional Event , Yom Hashoah
08:45 PM (EST)
Duration: 1 hour 15 minutes
Join us for a Zikaron BaSalon event, to hear the story of Mrs. Lili Schapira nee Lichtenfeld, a Holocaust survivor, from the respected Pressburg (Bratislava) Jewish community, Slovak Republic. The testimony will be given by both her son and grandson, Gadi and Itamar Schapira, and will include excerpts from her diary, in which she wrote her memories from the war, as well as an excerpt from a 2014 video interview recorded at her apartment in Tel-Aviv, two years before she passed away at the age of 96.
הצטרפו אלינו לשמוע את גדי ואיתמר שפירא מספרים את סיפורה של לילי שפירא
this course is also available on different days
Need some help picking the right course ?
You're not sure what program is fit for your kids ? We're here to help.
Fill the form bellow and we will get back to you quickly so we can pick together the right courses.
×