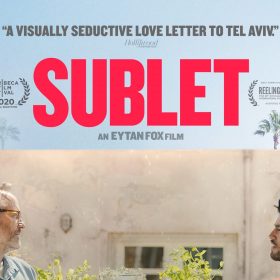 Israel Film Festival: Sublet (Opening Night)
New York, NY
08:00 PM (EST)
Duration: 2 hours 30 minutes
IAC New York invites you to join us for for  a screening of the movie Sublet, followed by a live Q&A.
Following a personal tragedy, Michael, a travel columnist for The New York Times, goes to Tel Aviv to write. His grief has caused problems between him and his husband, leading him to want to do his research and go home. But when he sublets an apartment from Tomer, a young film student, he finds himself drawn into the life of the city. The unlikely and intense bond they form transforms their lives in unexpected ways.
Doors will open at 7PM EDT. The film will begin promptly at 8PM.
Date: Tuesday June 15th @ 8:00pm                                                                                                                     Location: 334 Amsterdam Ave at W 76th st, New York NY 10023
this course is also available on different days
×