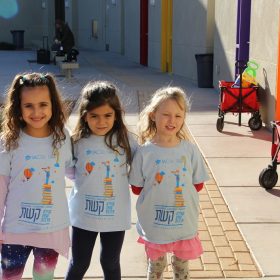 Keshet Open House
Scottsdale, AZ
04:00 PM (MST)
Duration: 3 hours
Shevet Shemesh is hosting the IAC Keshet open house during their Wild West event with tons of fun activities, food trucks*, petting zoo and more for kids and adults alike.
Join us for "Keshet" families' fun activities and learn more about the program. This is a great opportunity to meet your friends and the program instructor, Reut.
RSVP is required, but the event is FREE and open to the entire community.
* Please bring cash, as some vendors have a minimum for credit card orders
שבט שמש מארח את קשת באירוע פתיחה 🤠שמש במערב הפרוע🤠 עם הפעלות מרובות,
פינת ליטוף, דוכני מזון ועוד לכל בני המשפחה
הצטרפו אלינו והכירו את משפחת קשת עם פעילויות לילדים!
בואו להכיר את החברים החדשים והמדריכה רעות שתעשתה לכם את השנה!
אנא הרשמו לאירוע
הכניסה ללא תשלום ופתוחה לקהילה כולה
בבבקשה הביאו מזומן לדוכני המזון מכיוון שלחלק מדוכני המזון יש מינימום בקבלת אשראי
this course is also available on different days
×