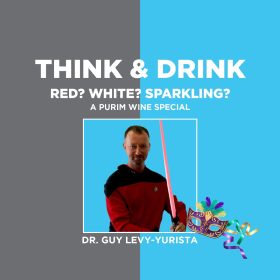 Think and Drink: Purim Special
Rockville, MD
08:00 PM (EST)
Duration: 3 hours
Join us for a special Purim gathering with Dr. Guy Levy-Yurista, one of the first sommeliers in Israel, past editor of the "Wine and Gourmet" magazine, speaker, and instructor at various wine classes. Dr. Levy-Yurista will share anecdotes about the life of a wine expert, as well as interesting facts about wine. Wear your costume or a Purim mask and let's celebrate Purim together.
Due to COVID 19 Pandemic and in order to maintain the health of our community – participation in our event requires signing a health form when you arrive to the event. Please do not come if you are experiencing symptoms or have been exposed to someone who is sick. Help us all keep our families, friends, and community healthy – we all share the responsibility!
הצטרפו אלינו למפגש עם גיא לוי-יוריסטה, מהסומליירים הראשונים בארץ ובעבר העורך המקצועי של מגזין "יין וגורמה".
לוי-יוריסטה מרצה בקורסי יין שונים ובין השאר גם דר׳ לפיסיקה (ולא רק של היין) וכיום מנכ"ל בחברת סטארטאפ.
במהלך הערב הוא ישתף באנקדוטות מעולמו של יינן ועובדות מעניינות נוספות ש(אולי) לא היכרתם אודות יין.
בואו בתחפושת מלאה או אפילו רק עם מסיכה (של פורים) – וביחד נמלא את מצוות עד דלא ידע!
*בשל  COVID 19  ועל מנת לשמור על בריאות הקהילה שלנו-השתתפות בכל אירוע מחייבת חתימה על טופס הצהרת בריאות בזמן ההגעה. אנא, אל תגיעו למפגשי פנים אל פנים במידה ואתם חווים סימפטומים או נחשפתם לחולה מאומת. עזרו לנו לשמור על בריאות משפחותינו, חברינו והקהילה כולה – האחריות היא של כולנו!
this course is also available on different days
×