Virtual Event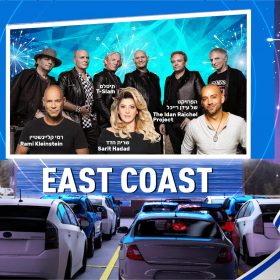 The East Coast is celebrating Israel!
חגיגות יום העצמאות
Coast to Coast , Israel Independence Day
07:00 PM (EST)
Duration: 1 hour
The first "Hybrid" Celebrate Israel Experience Across America!
Join the largest Israeli event of the year and celebrate Israel's 73rd birthday with a live broadcast concert from Rami Kleinstein, T-Slam, Sarit Hadad, and The Idan Raichel Project!
Join tens of thousands of community members from coast-to-coast with Israel at heart and Israeliness in spirit and celebrate Israel's 73 years of independence.
חוגגים עצמאות "היברידית" ביחד מחוף לחוף!
הצטרפו לעשרות רבות של קהילות ועשרות אלפי משתתפים מכל רחבי ארצות הברית למסיבת העצמאות הכי שווה באזור ובואו לחגוג איתנו את 73 שנות העצמאות של ישראל עם רמי קליינשטיין, תיסלם, שרית חדד, הפרויקט של עידן רייכל ועוד! את החגיגה הוירטואלית הזאת עם מיטב האומנים שלנו היישר מירושלים ועוד כ"כ הרבה הפתעות, אתם לא תרצו להחמיץ!
this course is also available on different days
×