Virtual Event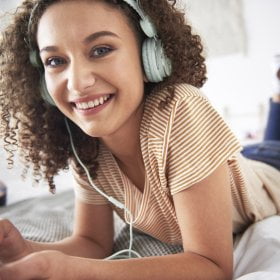 03:00 PM (PST)
Duration: 45 minutes
What's Your "Story"? Empowerment course for teenage girls.
Ofek invites teenage girls to a fascinating 5 sessions' course where they'll discover powers inside them.
Together in a safe environment we will discuss: What do you see in yourself? What do you think you can accomplish? What do you think others think of you? How much do you believe everything you see in social media? How much do you believe what others say about you? How do you see your future? What do you think you need to give the world, for you to get there?
By the end of this course, you'll discover that you #you've-got-It.
Parents, you'll probably connect with the sentence parents tell me all the time: "I wish that when I was at my daughter's age, my parents would have signed me up for a course like this".
● During the course, you can contact me using WhatsApp, send me work assignments to focus in our meetings, and even connect to the atmosphere of Israeli's teens.
● Parents of girls participating in the course will have the privilege to get private coaching sessions with me, with no extra payment.
● The lectures will be done in Hebrew. The girls can contact me in the chat or WhatsApp either in Hebrew or English, whichever feels more comfortable for them.
This class is in Hebrew
מה את רואה בעצמך?
למה את חושבת שאת מסוגלת?
מה את חושבת שאחרים חושבים עלייך?
כמה את מאמינה למה שאת רואה במדיה החברתית?
כמה את מאמינה למה שאומרים עלייך אחרים?
איך את רואה את העתיד שלך?
ומה את חושבת שאת צריכה לתת לעולם כדי להגיע לשם?
אם את נערה מתבגרת, אני מזמינה אותך לקורס מרתק בן 5 מפגשים שבו נגלה שיש בנו כוחות שעוד לא הכרנו, הזדמנויות שעדיין לא ראינו, ובכלל – נגלה שהמציאות שלנו ביומיום יכולה להיות משודרגת.
כן, אפילו בתקופה של ריחוק חברתי את תגלי שיש דברים שאת יכולה לנצח.
המטרה היא לעבור תהליך משותף שבסופו את תגלי ש#יש לך את זה.
אם את אמא לנערה מתבגרת-
את בטח תזדהי עם המשפט שאני שומעת מכל כך הרבה אימהות שפונות אליי:
"הלוואי וכשאני הייתי בגיל של הבת שלי, היו שולחים אותי לקורס כזה..".
• במסגרת הקורס המשתתפות יוכלו ליצור איתי קשר באופן פרטי בווטסאפ, לשלוח משימות עבודה ואפילו להתחבר לחוויות של בנות ישראליות בארץ.
• אימהות למשתתפות הקורס יוכלו לקבל ממני ייעוץ אישי ללא תוספת עלות.
• ההרצאות יועברו בעברית, הבנות יוכלו לפנות אליי בצ'אט או בוואטסאפ באנגלית.
הקורס יועבר בעברית ובאנגלית.
RECURING EVENT

(5 SESSIONS)
Tue., MARCH 09TH
03:00 PM

(PST)
Tue., MARCH 16TH
03:00 PM

(PST)
Tue., MARCH 23rd
03:00 PM

(PST)
Fri., APRIL 2nd
03:00 PM

(PST)
Fri., APRIL 09TH
03:00 PM

(PST)
this course is also available on different days
×