אנו מזמינים אתכם לצאת למסע של מנהיגות, שבו תוכלו להעמיק ולחקור את הזהות שלכם כישראלים – אמריקאים, ללמוד ולהכיר את העולם היהודי אמריקאי ולרכוש כלים למנהיגות ובינוי קהילה. בואו לגלות כיצד אתם יכולים להיות מעורבים בעשייה קהילתית וחברתית משמעותית ולהפוך להיות כח מוביל ופעיל בקהילות שלכם.
We invite you on a leadership journey to explore and deepen your identity as an Israeli-American, learn about the Jewish American landscape, and acquire core leadership and community-building skills. Learn about community engagement, social activism, and how you can be an active leader in your community.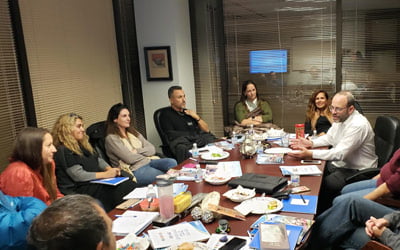 תכנית גוונים מנהיגות קהילתית  היא תוכנית הדגל של ארגון ה- IAC אשר פועלת להעצמת והכשרת חברי קהילה ישראלים אמריקאים למנהיגות בקהילותיהם.
צירי התוכן המרכזיים של התכנית הם: זהות, מנהיגות, קהילה .
התוכנית מיועדת לדור ראשון או שני של ישראלים-אמריקאים , מעורבים בקהילתם או מגלים עניין בעשייה הקהילתית והובלתה.  
במסגרת מפגשי התוכנית זוכים המשתתפים לקחת חלק במסע אישי מרתק הכולל דיונים מעמיקים סביב הזהות שלהם, מפגש עם מנהיגי קהילה ולמידה ממומחים על מרחב הקהילה היהודית אמריקאית לאורך השנים ועד היום. בנוסף לתהליכי למידה אלו רוכשים המשתתפים מיומנויות וכלי מנהיגות ובינוי קהילתי והופכים למנהיגות השטח של הקהילות שלהם. התוכנית גם מספקת למשתתפיה הזדמנות להובלה קהילתית בחבורות משימה.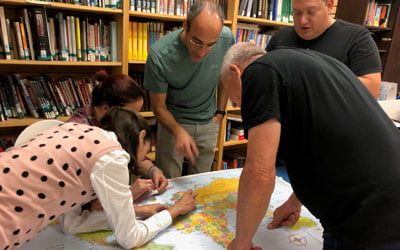 Gvanim Community Leadership is the IAC's flagship program designed to empower Israeli-Americans to become leaders in the Israeli- and Jewish American communities. The program's curriculum is built around three themes: identity, leadership, and community. Over the course of the program, first and second-generation Israeli-Americans immerse themselves in in-depth conversations about their multifaceted identities, meet community leaders, learn from experts about the Jewish-American history and landscape, develop grassroots leadership and community-building skills, and lead local community task forces.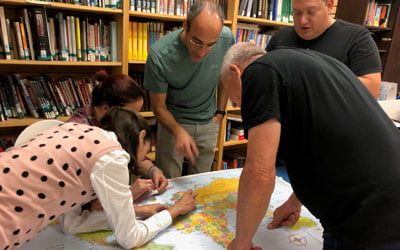 רשת בוגרי גוונים מנהיגות קהילתית – מרחב לחיבורים בין מנהיגים, למידה, העמקה, והשראה.
הרשת מזמינה את בוגרי התוכנית מרחבי היבשת להצטרף למפגשי למידה משותפים עם ארגונים מובילים, לשמוע ממנהיגים מעוררי השראה, להעשיר את ארגז הכלים המנהיגותי ולבנות קשרים מקצועיים ושיתופי פעולה לחיזוק המנהיגות הישראלית-אמריקאית. 
דוגמאות למפגשים אשר יוצעו השנה:
סדרות מפגשים עם מכון שלום הרטמן, מוזיאון העם היהודי ומכון הדר.
סלון מנהיגים עם דמויות מפתח כמו ד"ר תומר פרסיקו, ד"ר מיכה גודמן, המשוררת סיגל נאור-פרלמן ועוד, סדנאות מנהיגות וקהילה ואינספור הזדמנויות לשיח עמיתים, עשייה והובלה.